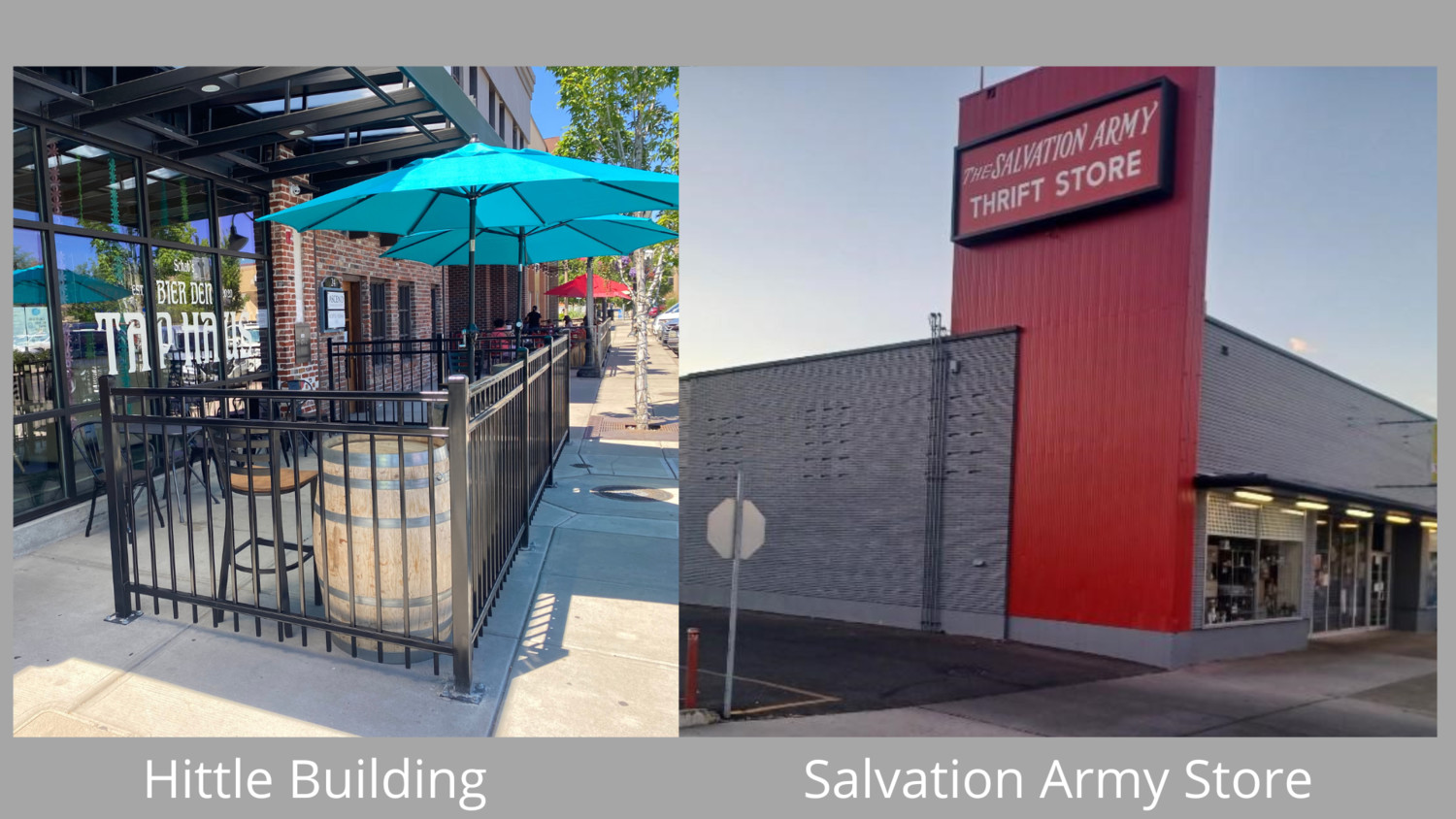 The Downtown Association of Yakima (DAY) is excited to announce the completion of this year's two Façade Improvement Grant projects. "Both of these projects were significant enhancements to their respective buildings, "says Executive Director of DAY, Andrew Holt. "They were masterful in their simplicity and their effectiveness."
The Salvation Army Thrift Store, located at 9 S. 6th Avenue, received $5,000 to assist in the complete repainting of the building's exterior. The store is now adorned in the Salvation Army brand colors of burgundy and grey with a new, streamlined look.
The HIttle Building, located at 22 N. 2nd Street, utilized nearly $2,000 to create an outdoor seating area in front of its street level business. This was accomplished by installing decorative wrought iron fencing for the tap room - Schab's Bier Den.
DAY originated the Façade Improvement Grant Program in 2015 and, so far, nearly $72,000 in grant funding has been awarded to 11 individual projects, sparking well over $1 million in investment. "The Façade Grant program is so rewarding to the business and building owners, and to DAY, for it results in tangible projects that visibly improve the building, the business, and the entire downtown community", says Holt.
Each year, the Design Committee for DAY reviews applications and awards grants based on several criteria. The funding comes from DAY's general operating budget. Applications are sought from February through April with awards usually occurring in late May. Awardees have until the end of the Fall construction period to finish their projects which have varied from murals to signs to marquee/awnings and complete façade renovations. A full listing of past projects is at the end of this release.
The 50/50 matching grant program is for businesses and buildings strictly in the Downtown Yakima Main Street District. A map of the district is in both the grant instructions and application. Projects that improve the façade of the building or any connecting outer part of the structure that can be viewed from the right-of-way are eligible.
For more information on the DAY Façade Improvement Grant Program visit https://downtownyakima.com/business/facade-improvement/
2022
Salvation Army Thrift Store – Exterior paint
The HIttle Building – Outdoor seating
2021
The Opera House – Brickwork, plaster, and painting
2020
No project due to Covid limitations
2019
The Hittle Building – Ground floor façade, marquee, awning
2018
Yakima Federal Savings – Street Sign
City Place – Exterior painting and banners
MB Designs – New door and front entrance
2017
Crafted – Brand Mural
2016
Lee Semons Building – Façade and window update
2015
Thai House – Façade Design and renovation
Posted August 19, 2022