Where can i get tickets to roots & vines?
What time does the event end?
The event ends at 10pm, last call for drinks is at 9:30pm.
Is re-entry permitted?
Where can I park?
Parking is available along S. Front Street, N. First Street and East Chestnut Avenue. There is also a free all day parking lot on the west side of N. 1st Street and Pendleton Way, a 4 hour parking lot directly across the street on the east side of N. 1st Street and Pendelton Way, as well as open parking at the County Courthouse parking lot across from the 4 hour lot.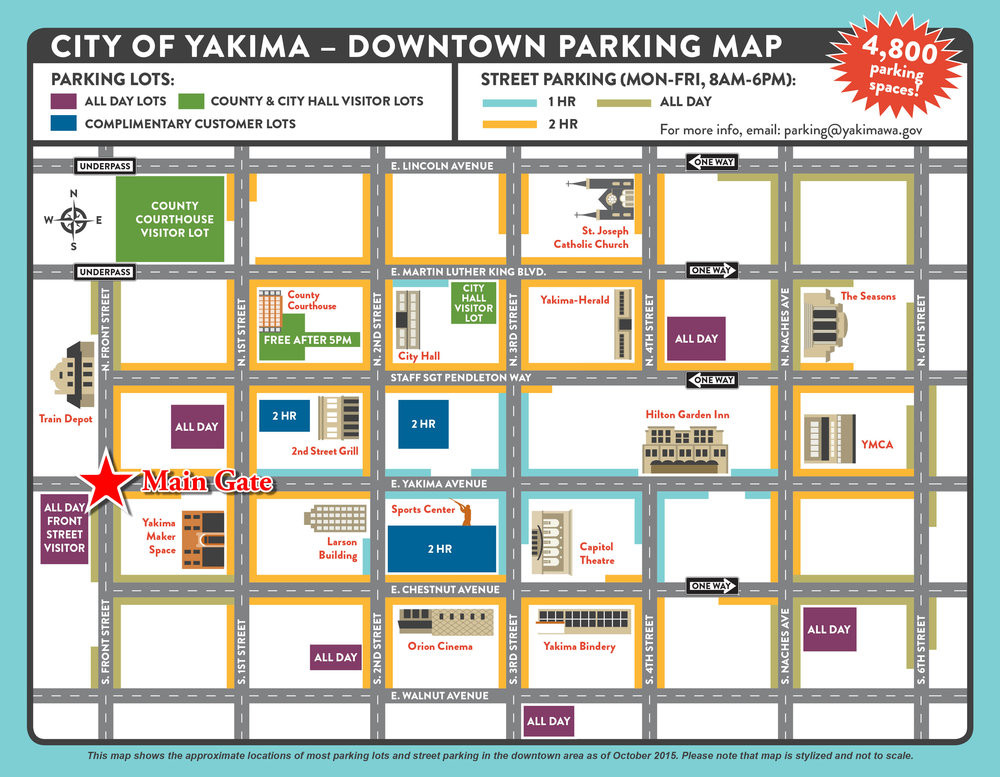 Is there a cost to park?
Parking is FREE in Yakima.
Is there a place to store my bike?
There are many places available on Yakima Ave where you can lock your bike to available stands.
What is NOT permitted inside festival gates?
Bicycles
Weapons
Projectiles
Outside food, alcohol or non-alcoholic beverages
Video recording devices (excluding cell phones)
Animals, except service animals
Glass bottles or cans
Wagons or carts
Laser pointers
Air horns or other noisemakers
Skateboards
People under 21 years of age
How much do tickets cost?
General Admission - $15 online | $20 at the gate
*The event is 21 and over only, but there is a family viewing area located to the left of the main stage at North Town Coffeehouse accessible via Pendleton Way.
What does my ticket include?
General Admission tickets include entry for one plus a commemorative event cup.
Will I need cash at the event?
Yes. You will need cash for drink tickets and food. ATMs are available on-site.
Can I bring my own chair?
Yes. Chairs can be used in the designated seating area ONLY. Space in the seating area is FIRST COME, FIRST SERVE. Once the area is full, additional seating will not be permitted.
*FREE FAMILY SEATING AVAILABLE OUTSIDE OF THE EVENT AT NORTH TOWN COFFEEHOUSE; FIRST COME, FIRST SERVE.
Where is this event located?
Is there food?
Yes. There will be food available for purchase from a number of local food vendors.
What about the weather?
This is a rain or shine event. The weather can be warm this time of year and sunscreen and protective wear is recommended.
What time does the event start?
The gates open at 3:30pm.